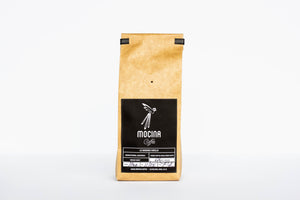 La Sagrada Familia Medium Roast Coffee
Sale price Price $15.00 Regular price
Tax included.
Our Coffee is 100% Certified Clean
If you drink coffee, you should care about the quality of the beans. Coffee contaminants may include pesticides and mold toxins which may be harmful to your health. Mocina's beans are more than just high-quality. Care is given from farm to cup so you get a clean, flavorful coffee that makes you feel as great as it tastes. We go the extra mile and lab test and certify our beans to ensure you are only drinking the cleanest brew.
We pay our farmers 34% above fair trade standards.
Since our inception, we pledged to pay our partner coffee producers a better price. As of today, we are proud to have paid our partners $2.00 - $3.50 more than the average fair trade market value. That proves to be a win for our people, and ultimately for our planet.
Learn About Our Difference
Our Credo
Our simple truth is that coffee is far more than just coffee. At our core, we are driven by the extraordinary impact that coffee has on all of humankind. Productivity, life experiences, inspiration, and the best of ideas are all stimulated by the mental activity and heightened perception that coffee creates. A customer-first philosophy is the fuel behind the company we strive to become. Productivity enhancement, unique experiences, maximized utility, accountability, and an engrained respect for time ultimately serve to lay the foundations for what we will always work to become.
We seek to use our business as a means of inspiring and implementing solutions to benefit all of society.
Now Roasting "La Sagrada Familia"
A single origin coffee, crafted at one of the finest farms in the world.
Mocina is excited to introduce this single origin variety cultivated at a farm nestled high-up in the Sierra Los Cuchumatanes mountain range in the western highland region of Huehuetenango, Guatemala. With a taste that is subtle and mild, La Sagrada Familia has a distinctive fruity taste, a light body, a sweet floral aroma, and a clean aftertaste that lingers pleasantly on the palate. La Sagrada Familia or The Holy Family was named as such to honor the farm of its cultivation and the family values that encompass their business.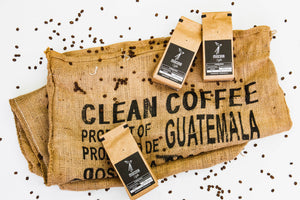 Mocina Coffee
Coffee Gift Card
Sale price Price $10.00 Regular price
Tax included.